Texas Blues Radio reviews Leo Hull's latest CD "In The Pocket"
Texas Blues Radio DJ Ginger of KNON 89.3 FM gives raving review of The Texas Blues Machine's newest CD, "In The Pocket"
Back to Press Release Index
Next Press Release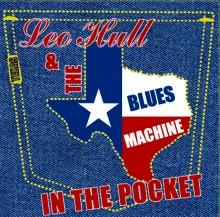 (November 03, 2009 ) DALLAS, TX * Remember the name Leo Hull & The Texas Blues Machine. Although this is only their third CD, it serves grand notice that this incendiary band will be around for a long, long time.

This is the whole package required for big time commercial success; image, charisma, fire driven performance, and a strong unique voice backed by a burning blues guitar.

There are enough flashes of true grit and Texas roadhouse brilliance to have loads of critics declaring Leo Hull and The Texas Blues Machine to be the "Next Big Thing" on the national blues scene. This is y tough/tight and very charismatic.

"In The Pocket" is a masterpiece of wit and social commentary, as always with rich vocals and impeccable guitar. All songs save one are originals, as Leo remains one of the most prolific blues writers on the scene today. From start to finish, this is a top notch effort that proves beyond a doubt that Leo Hull & The Texas Blues Machine are on to something big.

In a blues world that has seen its share of pretenders, imposters and wannabes, it's a breath of fresh air to listen to a CD by a real blues man. Every song is a winner and any true devotee of the blues should invite "In the Pocket" to come on home. If you cannot connect to these songs, you'd better check your pulse.

Check out their music for yourself at www.thetexasbluesmachine.com or www.myspace.com/leohullthetexasbluesmachine . Or better yet, listen to a live in-studio interview with Leo himself this coming Tuesday, November 10th, at 6PM on Texas' own KNON 89.3.


Press release prepared by Infamous Worldwide.


Contact Information:
Worldwide PR
S. Hansen