Back to Press Release Index
Next Press Release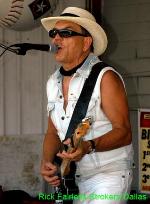 CD Review

"In the Pocket"
Leo Hull & The Texas Blues Machine
1. Blues Dancin' Queen- A tune about many shows on the road and Leo's observations of how fans interpret his band. Great story. "Up on the stage/payin' my dues/layin' down a track of sum badass Texas blues". Indeed. Smoking succinct guitar solos illustrates their blues competency very well.
2. Birth of the Blues-this song is the lynchpin of this record. This song is a well-spoken history lesson written and delivered by a man who understands the blues very well, indeed. Leo hints at the roots of Robert Johnson, Hank Williams, Stevie Ray Vaughan, and I have to agree when it is said that THIS song is the ANTHEMIC REBIRTH OF TEXAS BLUES, and if you aren't familiar with the Texas blues, well, ah HOW HOW HOW HOW can you not appreciate this? This song is delivered in the familiar styles of the blues heroes mentioned.
3. I'm confused-Leo touches on several pertinent issues plaguing American society today-domestic violence, divorce, pseudo-sexual warfare, dirty religion, dirty politics. I like the way Leo illustrates the ease by which politicians seem to get corrupted. Very relevant references that affect many folks today. He pulls no punches.
4. Down and out-"You order a fih dolla sandwich man, and it gives ya the blues" -LOVE THAT LINE!
I have to say that Jimmy's slide guitar work on this tune gave me goose bumps. I also dig the way that these guys deliver this song, in the traditional blues style we love, with the TBM twist.
Great tune to slow dance to with your honey.
5. Party about to happen-Just a good time party tune with some more slide guitar liberties taken by Jimmy Jewell. JJ delivers. If you don't get up and dance to this one, then you must be in a coma.
6. Who's got the blues-great opening guitar and keyboard hooks on this one. A -you been dealing heartbreak fer years-and now it's time for YOU to eat crow- song. All I can say is that what goes around, comes around, and if you were the object of Leo's ire in this one, well-shame on you. Great tune. Great guitar solo once again by Mr. Jewell.
7. Harley Davidson-written by Leo's compadre Doug Lynch, TBM takes this song from its original written form and redelivers it TBM style. Another great story telling tune about Harley David's Son. No, it's not about Mickey Rourke's character in that bad 80s movie with Don Johnson. Listen to it for yourself and you'll appreciate it as much as I - great guitar work, organ chops, lyrics.
8. Pay your dues- regardless of who you are doctors, lawyers, ladies of the night... the best things in life don't come easy, and Leo and his mama understand this very well. Sounds like Leo's mama is a very wise lady. I'm sure she has lots of stories to tell. Pick her brain some more, Leo, -cuz it works. Great tune.
9. Roadhouse rider-Pretty fast tune on this one, good for dancing, for real. Easy to visualize legions of eager TBM fans swaying about to this one. Once again, great guitar work on this one, and the keyboards behind are a nice touch. Dig the train beat on drums too. HOW HOW HOW!
Overall, this reviewer's impression of this CD is that "In the Pocket" is destined for greatness in the blues category. Leo Hull is a masterful songwriter and very expressive. Leo surrounds himself with great talent. Jimmy Jewell on lead guitar reminds me of SRV, indeed. Shades of the younger Vaughan. Great bass chops and bass lines are consistently delivered by Craig Velez, David Pence communicates very well with Craig to nail the rhythm section down, and they all surround Leo Hull's very competent guitar playing and lyrical understanding of the blues. To me, these guys are the epitome of Texas blues, and if they are coming to your town, make a point to go see them. I have, and let me tell ya, they deliver one of the more powerful, masterful performances I have witnessed.
The CD is very well recorded and engineered, and Leo does a great job producing it. Go buy it. It is a must for anyone that call themselves a fan of the blues.
Review submitted November 22, 2009, by Dave Fury.
Dave Fury is the host of THE DIAMOND DAVE FURY ROCKSHOW on KBIG Internet Radio (www.kbigradio.net) on Wednesday Nights from 7-10pm CST.
Dave is also a professional musician with many years experience and accomplishments to his credit. Dave also owns and manages DFP Productions, a talent/booking agency in Dallas, Texas, specializing in Texas music.
www.myspace.com/davefurypresents
www.myspace.com/diamonddavefury
Dave Fury hereby authorizes the press release of this CD review. Any questions may be forwarded to Dave directly at dave@daveefury.com.