reviews Leo Hull's latest CD "In The Pocket"
Back to Press Release Index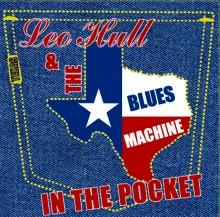 Bartender, Hit Me!
This band is Texas roadhouse country rockin' blues. They sound like Gary Stewart on steroids, especially on "Blues Dancin' Queen," which opens the album. The band features Leo Hull on vocals and guitar, bass player Craig Velez, David Pence on drums, Jimmy Jewel II on lead guitar, harp player Jeff Stone, and Charlie Lowe on keyboards.
The second track, "Birth of The Blues," is about musical icons Hank Williams and Stevie Ray Vaughan, whose music helped to shape the band's preferences. This is not necessarily a comprehensive education but enough to "let the boys rock 'n' roll." All of the songs are originals and their lyrics are infectious. Highlights include "Party 'bout to Happen" and "Harley Davidson," but the inclusion of a few obscure covers might have added to this production.
I can imagine them playing a Friday night gig at a Texas roadhouse outside of Dallas (their hometown). The overall sound may owe a bit too much to "Bocephus," but the more you drink the better they sound, and everyone has a great time. When you're in Dallas you might want to check these guys out.
Hey, is there a Colter's barbeque restaurant around here ? ", ~ Richard Ludmerer ~ "Blues Review"